RNA Biology forever – Vienna RNA Meeting 2021 
September 28-29, 2021
Vienna Biocenter, IMP Lecture hall
Campus-Vienna-Biocenter 1, A-1030 Vienna

https://www.vienna-rna-meeting.at
Downloads

Monthly RNA Tuesdays: RNA Webinars WS2020-SS2021 from Sept 2020 onwards

Logo:
---
RNA Lecture Series WS 2019/2020:
90-minute-lectures by invited speakers on one Friday morning per months, followed by lunch & discussions and individual meetings with DK students and faculty in the afternoon.


Previous seminar/lecture series:
---
Miscellaneous RNA Events:
– Upcoming:
MICROSYMPOSIUM, 22. – 23. APRIL 2021
Virtual Microsymposium on Small RNA Biology 2021, IMBA, Vienna, 22-23 May 2020 – organized by the four research institutions IMBA, IMP, GMI and the Max Perutz Labs as well as by the RNA community of the Vienna BioCenter.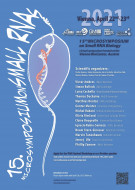 – Past:
---
Boost your career:
VBC Career Day 2018: 30 November 2018
VBC Career Day 2017: 22-24 November 2017
MFPL Career Day 2017: 16-17 October 2017
VBC Career Day 2015: 24 November 2015
MFPL Career Day 2015: 5-6 October 2015
VBC Career Day 2014: 8-9 and 16 September 2014
MFPL Career Day, 11 October 2013
VBC Career Day, 9 September 2013
VIPS Postdoc Day, 17 January 2013
VIPS Half a day for funding, 9 October 2012
---